The AMBOSS add-on for Anki works with your existing Anki decks to unify your resources and make it even easier to access high-yield AMBOSS content from within your Anki decks. By installing the AMBOSS add-on for Anki, you'll be able to:
1. See pop-up term explanations and related images in your flashcards that connect directly to the AMBOSS Library (see below, for more details).
2. Launch a new AMBOSS Qbank session tailored to your Anki progress directly from Anki.
3. Use it even on your mobile apps (pop-up explanations when using AnkiMobile, AnkiDroid, or AnkiWeb).

How the pop-up explanations work:
AMBOSS pop-ups will scan your existing Anki decks for any medical terminology that already exists in our Knowledge Library. Improved phrase matching means you see the explanations most relevant to the topic at hand. If you hover over a highlighted term in your existing deck, you will see:
Medical term and definition
Etymology
A short description 
An overview link that leads you to the relevant article in our Library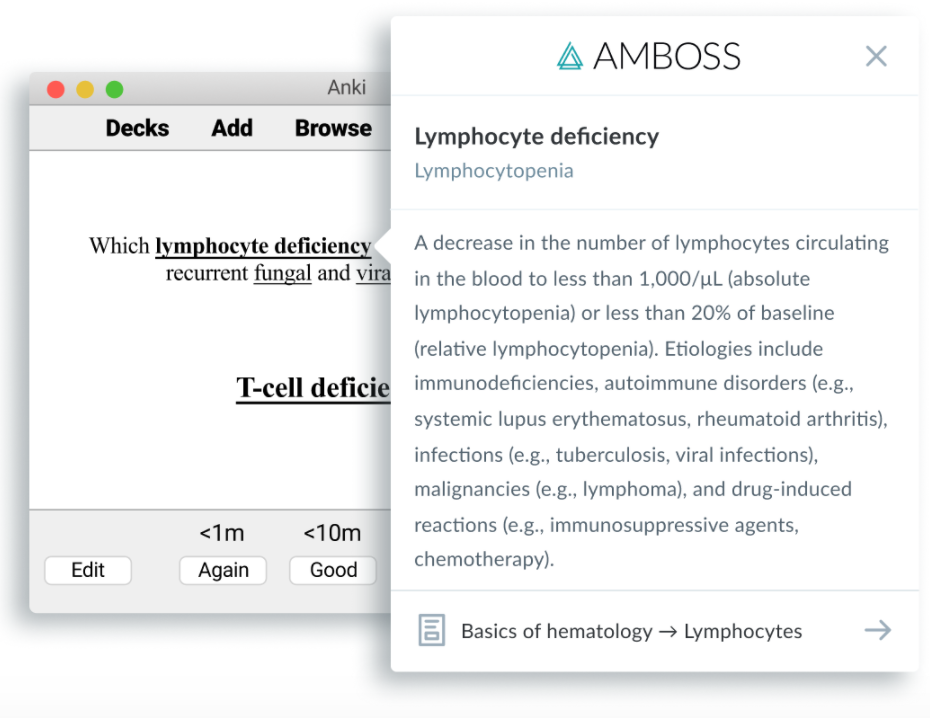 Thousands of other students are using the AMBOSS add-on for Anki to improve their understanding of key concepts while saving valuable time in the process. If you'd like to install the AMBOSS Anki add-on, you can download the add-on here and check out the installation video tutorial below to help you get started.