To start navigating the AMBOSS platform, open the sidebar menu by clicking the three lines on the top-left corner of AMBOSS: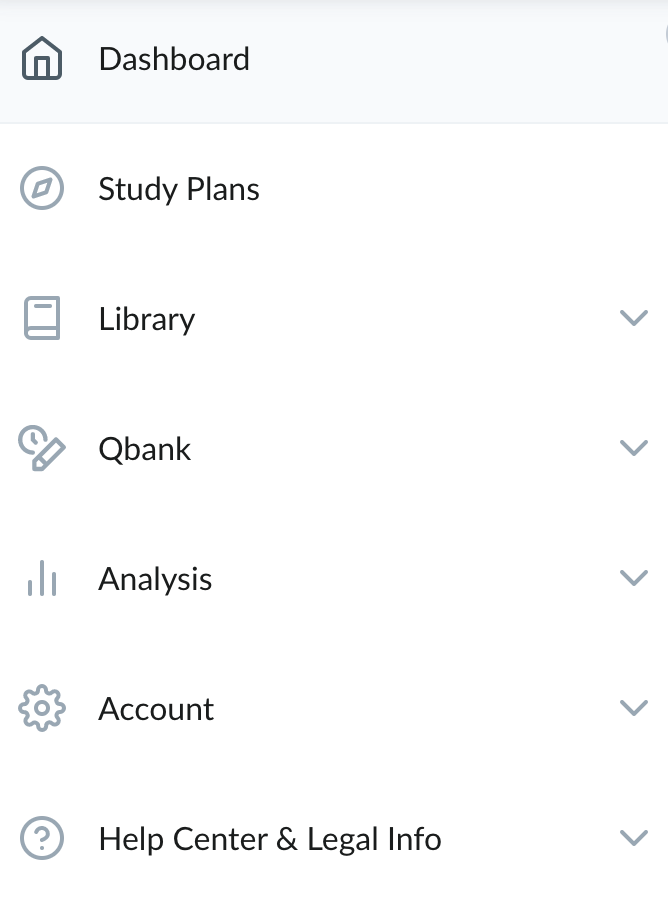 Library
To access our Articles and videos, click on Library. You'll find the topics under Articles and our videos under Chalk Talk.

Find the Articles you'd like to start studying by choosing your Exam and the categorization you prefer to follow, for example, By System:



Inside the article, you can use our features on the top of it, in order to organize your study. For example, you can use the High-Yield function if your exam is approaching, or you can use the Highlight feature to activate the highlighting our physicians have done for our content based on your Study Objective, or mark it as Learned if you'd like to keep track of your progress. You can also start a Question Session with the questions relevant to this topic by clicking on Qbank Session below the title. You can find out more about these features here.


Qbank
You can start covering the material of your study objective through the Study Plans or by creating a Custom Session by clicking on the Qbank. If you're uncertain about which method to choose, you can check out this article.
Our Study Plans are divided into pre-made blocks of questions based on subcategories for each USMLE Step and NBME Shelf exam. You'll be able to find all Study plans here:

You can also create your own custom study plans directly in the Study Plans section. Just click 'Create study plan':

Then, choose your study objective, when you wish to have finished studying, what days a week you are planning to study and how many hours per day you want to dedicate to the study plan, and you're all set! Our platform will prepare everything for you to be able to cover all the necessary content adjusting the plan to your preferred schedule.
To create individual own Question Sessions, you can visit the Qbank and use our many filters to create random blocks of questions based on your own Study Objective, the Difficulty level, the topics or their status. To explore those filters, click here:
You'll be able to see your progress and study recommendations in your Analysis, which will help you determine which areas you need to focus on, and how you're performing compared to other AMBOSS users.