You can register your AMBOSS account for free without obligation. The 5-day free trial will give you access to the entire AMBOSS Knowledge Library, along with 50 Qbank questions. We have 2,600+ questions for Step 1, 2,300+ questions for Step 2 CK, and 900+ bonus questions for Step 3, so there is plenty to explore!
To create an account and start your free trial, follow these steps:
Click here

Enter your email address and you personal password

Your account will be created right away and you can then enter your Profile information. (To keep using AMBOSS, you need to verify your email and activate your account by selecting the link in the message we sent to your email address. In case you did not receive the email, you can resend the email confirmation from within your dashboard- please make sure to also check your Spam.)
Activate your 5-day free trial or start your membership right away!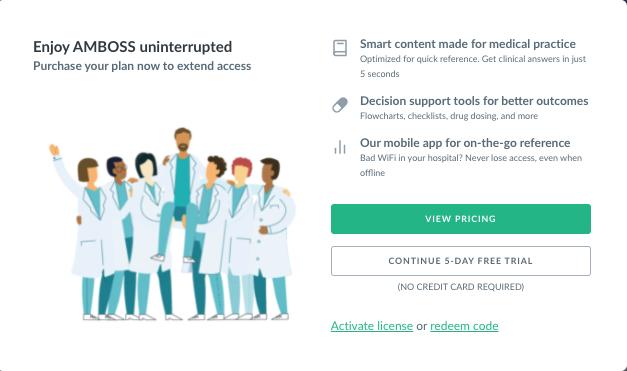 Start your AMBOSS membership:
To continue using AMBOSS after your free trial, you can purchase one of our memberships. An AMBOSS membership includes unlimited access to our comprehensive medical library and 50 questions per month in our Qbank. You can choose to upgrade to unlimited questions at any time, to make the most of thousands of our high-quality questions for exam prep.
Check out the AMBOSS memberships available or visit Membership & Licenses in your account area.