AMBOSS has over 2700 dedicated Step 1 questions in addition to a comprehensive Knowledge Library containing high-yield highlighting, interactive videos, overlays, and more to help you prepare for Step 1.
*** A quick tip before using AMBOSS to prepare is to make sure your
Study Objective
is set to Step 1 in the
Account
>
Career & Study Profile
section of the platform. This way, your
Analysis
section will be relative to AMBOSS users preparing for Step 1, and your
Learning Recommendations
within
Analysis
will also be relevant to this exam. Additionally, if you decide to activate our
Highlight
or
High-Yield
features within the Knowledge Library, the corresponding content will include what the AMBOSS Editorial team has deemed high-yield for Step 1.
To access our Step 1 Qbank with high-yield questions:
1. Log in to your AMBOSS account here.
2. On the left sidebar select Qbank > Custom Session
3. Click the Exam drop-down menu and select USMLE Step 1
4. Apply any other filters you would like to further customize your study session
5. Click Start on the bottom right corner. Exam mode is designed in a way to simulate your exam, while Study mode allows you to access features that will help you delve into the topics tested in the questions. Learn more about these modes here!
AMBOSS Articles are also a great reference resource when used in combination with the Qbank.
To access our Step 1 Library and Articles:
You can open up the corresponding article alongside a question by clicking the underlined keywords in Qbank answer explanations, as shown below:
​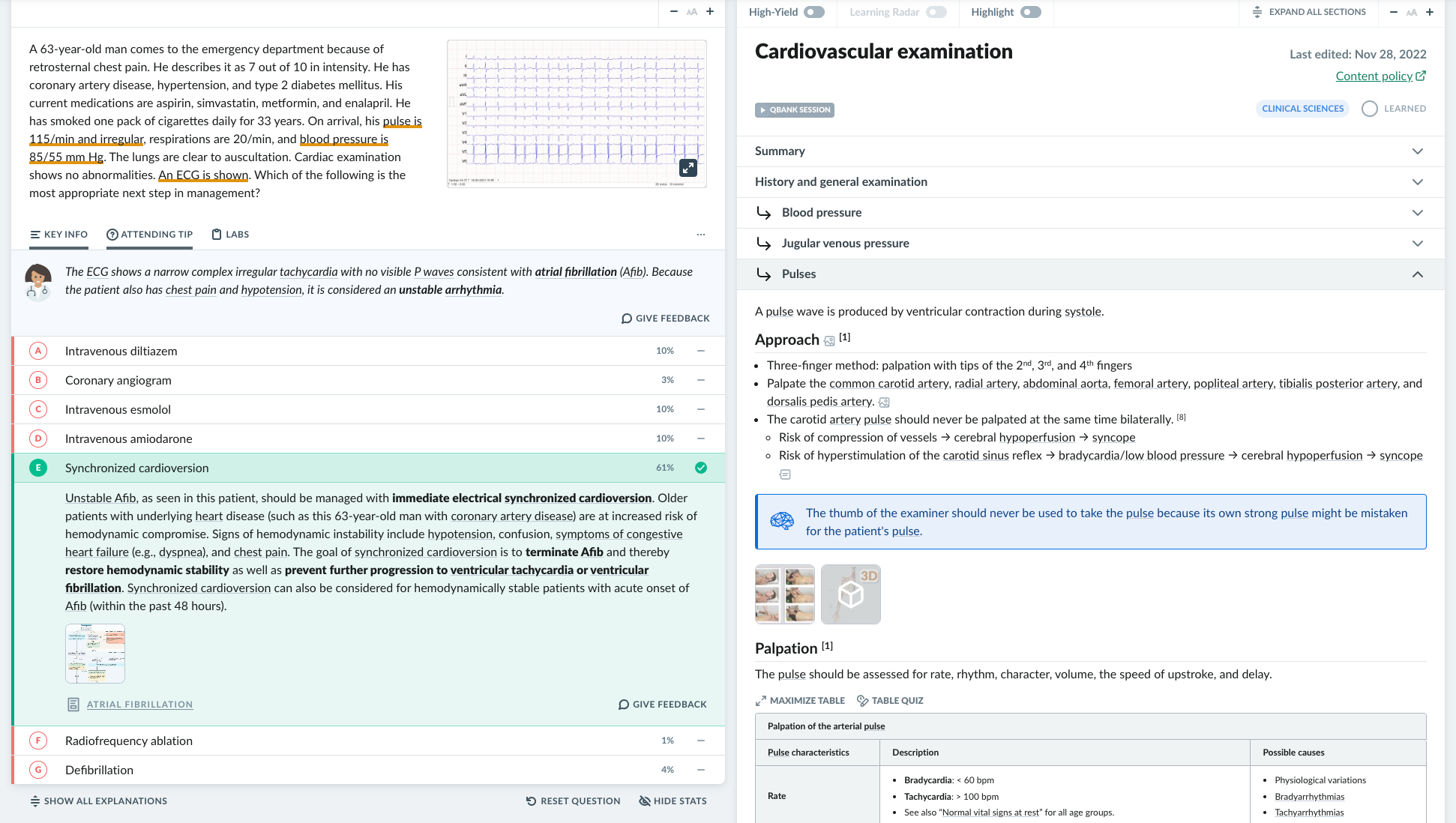 You can also directly access our entire Step 1 Library
here
, and look through Articles by discipline (eg. Biochemistry, Pathology, etc) or by system. Alternatively, you can search for key terms in the search bar.​​
You also have the option to create your own Study Plan for Step 1, tailored to your own study schedule and exam dates. You can do so
here
!
Additionally, feel free to check out handy Step 1 tips and tricks on our
blog.
We also offer a video series with resident Step 1 vets on our
YouTube channel
which walk you through preparation that's tried and true: