The Anki & Qbank integration of the AMBOSS Anki add-on allows you to launch tailored Qbank sessions from your Anki cards with one click!
Check out this video to see how the integration works!
You can start Qbank sessions directly from Anki in two ways:
1. Using the new Qbank Widget
Start a new AMBOSS Qbank session based on the content of the Anki cards that you have most recently matured (i.e. the interval for reviewing those cards is 21 days or greater).
2.  Through the Browse window of Anki
You can find AMBOSS Questions based on topics / existing tags or any group of selected cards from within the Browser window. Once you have selected a group of Anki cards, click on the "Start Qbank session" button next to the search bar. Then, select the question status (unanswered, answered correctly or incorrectly), difficulty level, and number of questions and launch a new session!
Access to this feature
To get access to our Anki & Qbank integration, please first make sure you have Anki version 2.1.35 or higher installed on your machine (Windows, Mac, or Linux). Once your Anki is up to date, you should receive an update notification in Anki asking to update your Anki AMBOSS add-on. To enable this feature, click on "Update now".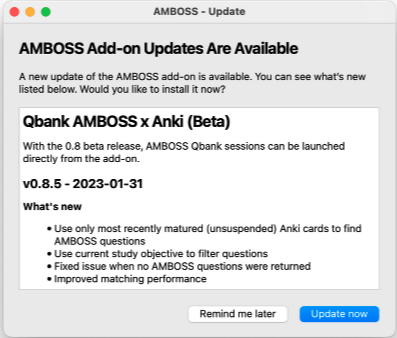 Make sure that you are logged into the add-on with your AMBOSS account so you are able to receive the notification, and if you don't have it yet download the AMBOSS add-on from here!
If you haven't received the update notification yet, please confirm that you have Anki v2.1.35 or higher installed. If you are still encountering issues, please reach out to us via the icon on the bottom right corner of this page.