With our Knowledge app, you can find our medical library available wherever you are.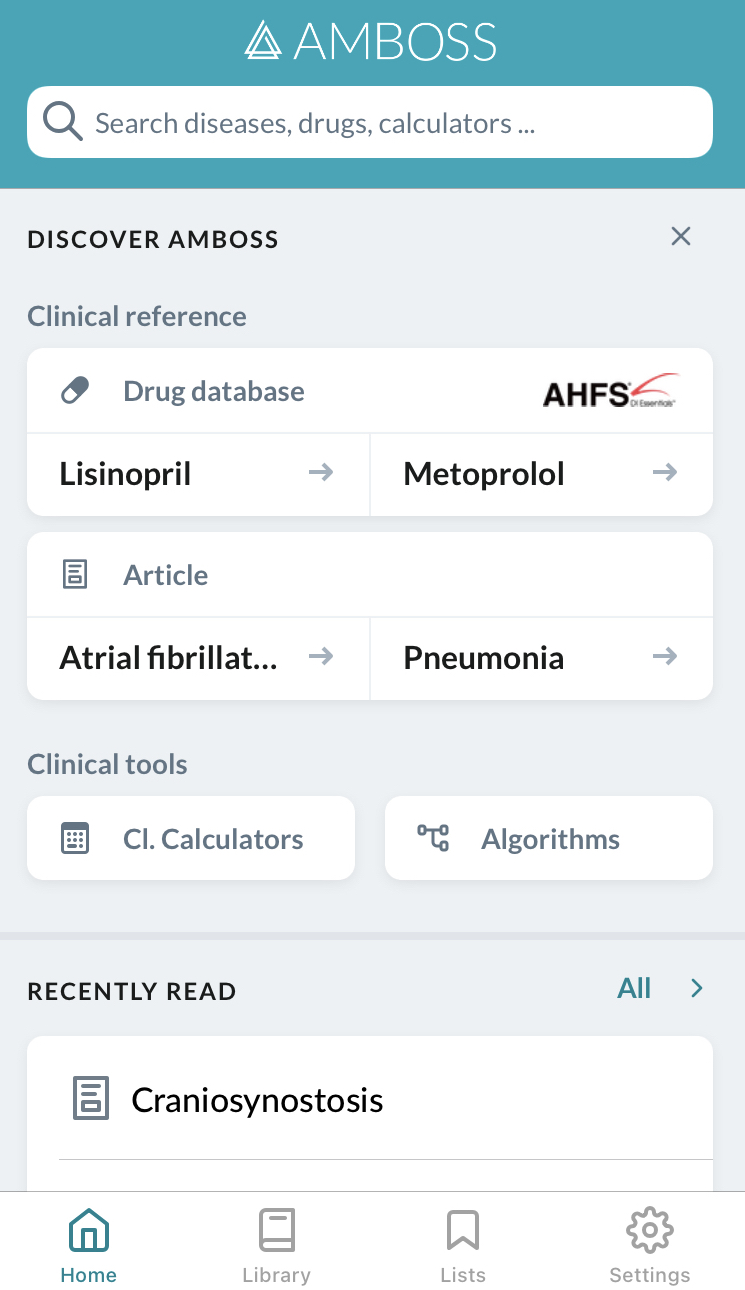 The new 'Home' section of the Knowledge App offers greater visibility of our Clinical Drug Database. Additionally, you can easily be redirected to Clinical tools on the app such as our CI. Calculators and Algorithms, as well as access recently read articles.
At the bottom of the Knowledge app screen, you can access the same Library overview as on the desktop site, as well as a search bar via the 'Library' tab. You can also access the 'Lists' section and the app's settings.
The 'Lists' section allows you to group articles in lists so that you can easily find the information you need at all times and keep track of what you studied.
Lists
Recent

: here you can see those articles that you have read in the app most recently, along with the date you opened them.

Favorites

: this list shows those articles that you have marked as 'favorites' in the app, allowing you to save some specific ones if you want to have them on hand quickly.

Studied

: you can find the articles you have marked as 'studied' in the app and 'learned' on the desktop.

Your Notes: in this section, you can find the notes you write both on the Knowledge app and on the desktop Library. In this way, you will be able to check them out anytime and open the corresponding article.
Read articles offline
You don't need to be connected to the internet to read our Library articles! As long as you have a functioning Membership, you'll be able to stay disconnected from the internet for up to 90 days at a time. Every 90 days, you will be required to connected to the internet to update the Library.
Settings
You can directly open the Qbank app, access the Help Center, and change your Study Objective. Also, in this section, you can keep your app synchronized and your content up to date:
Update > Library

: any changes made to our library content appear automatically in the desktop version of AMBOSS, but you must update your Knowledge app to reflect those changes. If you prefer, you can also activate the option so that the updates are downloaded automatically via WiFi.

App Settings > Appearance

: by activating this option, you will prevent your device from going into sleep mode while you are reading articles.