Picking a session
Whenever you view your Qbank sessions on the mobile app, you'll see a Downloaded section, and an Available section. Available refers to every session you've ever had with AMBOSS, while Downloaded is any session that you've downloaded to your device.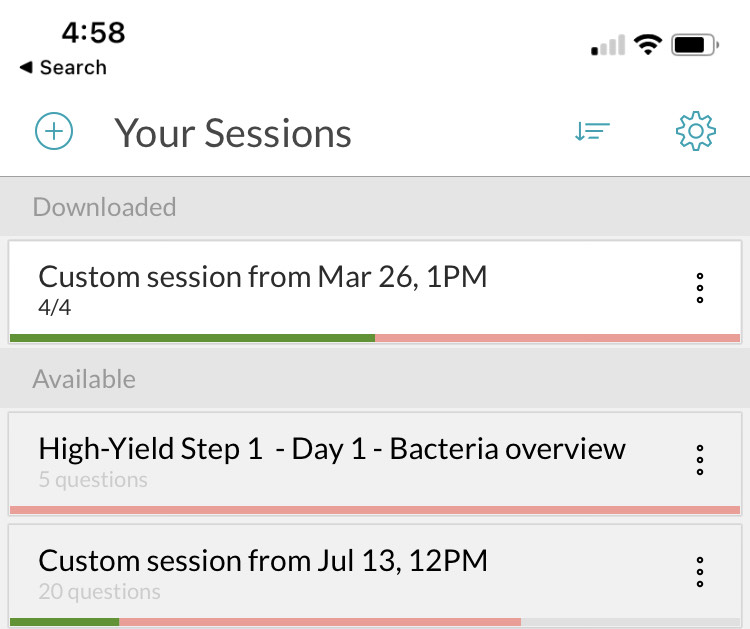 Whenever you select any session in your Available list, it will download directly to your device so you can study at any time, whether you have an internet connection or not! It will then move from the Available area to Downloaded.

If you want to remove a session from your device, just swipe to the left and select "Remove from device". It'll go back to your Available area, and you can download it again whenever you want!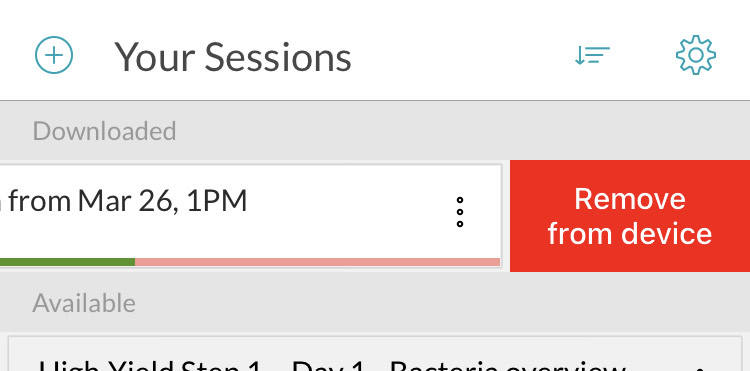 Using the mobile app icons during a session
Once you start a Qbank session, you can see in the bottom bar the icons for the Attending Tip and Key Info functions, which work in the same way as in our desktop version.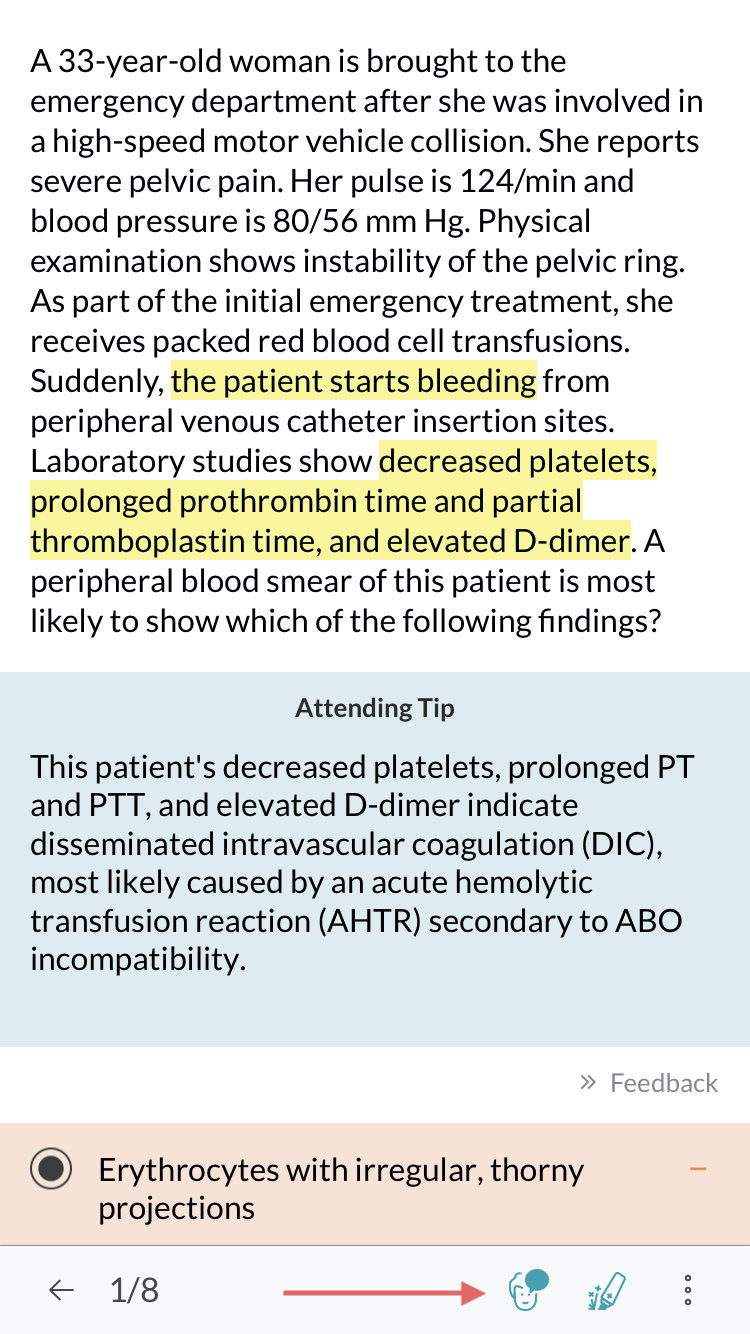 Attending tip: The attending tip will give you additional information on the case described that can guide you to the answer. Keep in mind that when the Attending tip is used, it is considered as help and will be reflected in your Analysis.
Key Info: This feature will highlight information in the question text that helps understand the focus of the question. The purpose of the Key Info feature is not only to guide but also to help you get accustomed to recognizing important information within a question.
Additionally, in the bottom right corner, you will find a menu icon. Tap it and several options will be displayed, such as a button to view the questions fullscreen and some other features: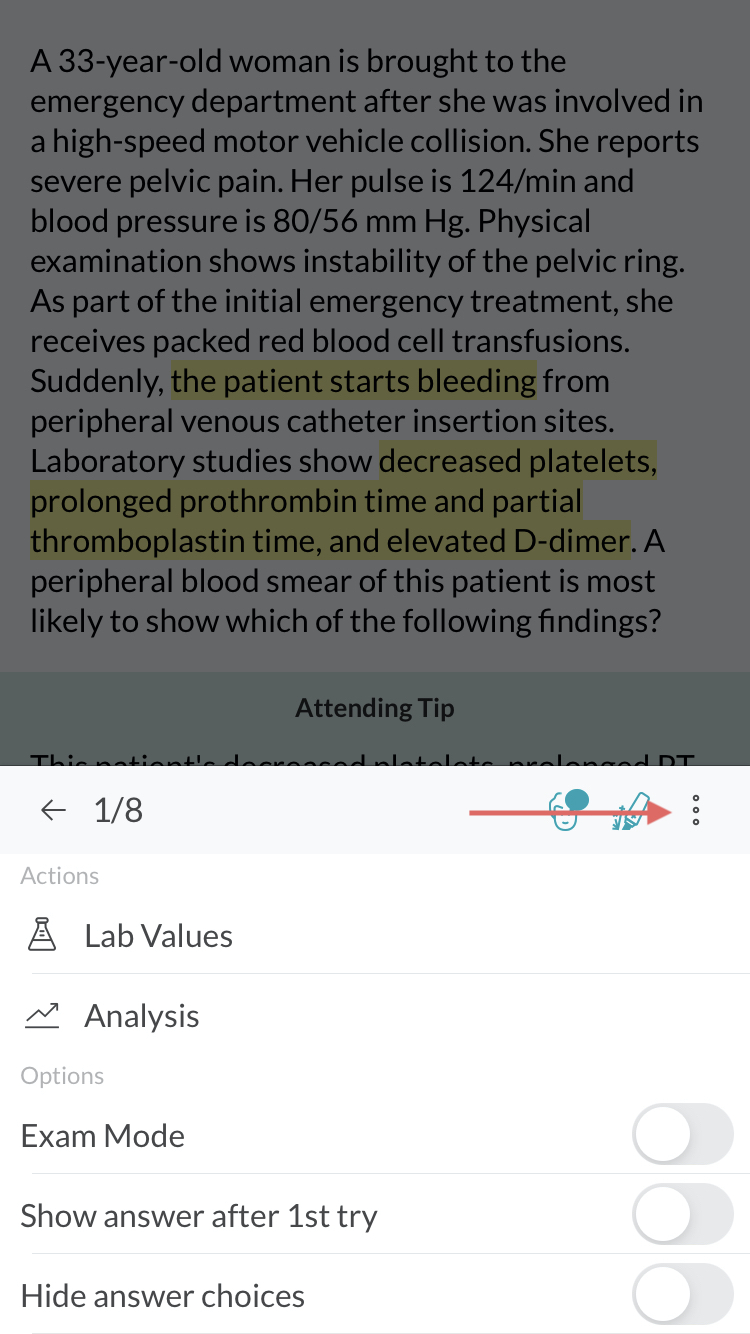 Lab Values show various scales of laboratory values ​​so that you can have them at hand when studying.
Analysis displays the percentage of correct questions for the current session, indicating how many have been answered with and without help. In addition, you can check your Qbank session list or tap the 'Study recommendations' button which will redirect you to our desktop site.
Hide answer choices allows you to read each question without seeing the different answer options. If you want to see them once you have read the question, you can tap 'show answers'.
Exam mode allows you to complete your Qbank session without helping features such as 'Key Info' or 'Attending tip', and without answer explanations. Please note that in this case, it is not a replica of the actual exam layout, as it is on the desktop version.
Hide answer choices

and

Show after 1st try

are the same options that you can activate and deactivate from the "Settings" section of the app. You can use these toggle buttons without leaving the Qbank session you are working on.